Kim Oprah is a beautiful reality star that likes travelling around as a travel blogger, the popular reality star in a new tweet fumes at those who are quick to question what she does for a living, as she shared a post that is outrightly a displeasure at those who questions her occupation.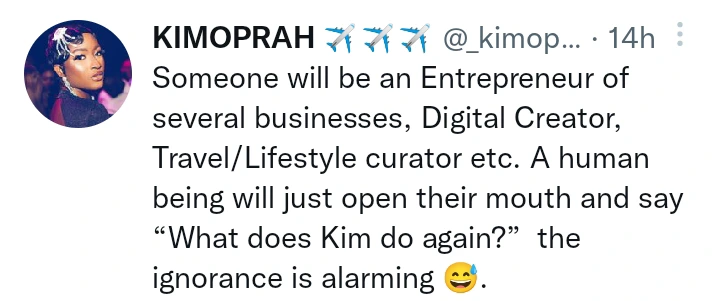 The beauty entrepreneur had shared a tweet that reads " someone will be an Entrepreneur of several businesses, Digital Creator, Travel/Lifestyle curator etc. A human being will just open their mouth and say "What does Kim do again?" the ignorance is alarming. " Looking at her tweet you can say that she deserves to express herself bin this way given how people are often quick to push her hustle aside, and make her feel she isn't doing much to warrant the life she usually flaunts on her social media handles.
Kim as we know is a typical hustler, who is a reality star, a model, a cosmetic entrepreneur, a travel blogger, and the face of many brands as their ambassador, hence it is always going to raise some dust when people still question the media personality occupation.