DOWNLOAD[Album] Phyno Something to live For mp3
DOWNLOAD[Album] Phyno Something to live For mp3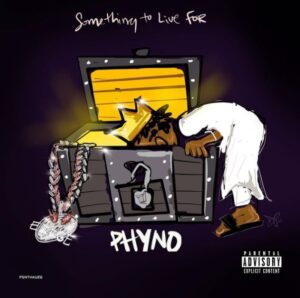 Penthouse Music boss Phyno has finally dropped his most anticipated album titled "Something To Live For".
He recorded a total of 16 tracks Album with Featurings from Top Nigeria and trending artist of the world ; Olamide, Flavour, Pappy Kojo, D Smoke, Peruzzi, The Cavemen, Jay Teazer, BeePee, Jdess & Anjuli. The songs in the album were produced by the below listed producers Eli, Chillz, Masterkraft, Runcheck, Flengz, Soularge, Rexxie, TYMG, Blaq Jerzee ETC.
This should be the album for the season Download below.
TRACK LIST
1 Phyno-–-Winner.mp3 (46 downloads)
2 Phyno-–-Stacks.mp3 (16 downloads)
3 Phyno-–-Do-You-Wrong-Ft.-Olamide.mp3 (24 downloads)
4 Phyno-–-Chizoba-Ft.-The-Cavemen.mp3 (39 downloads)
5 Phyno-–-I-Do-This-Ft.-D-Smoke.mp3 (33 downloads)
6 Phyno-–-Ghetto.mp3 (28 downloads)
7 Phyno-–-Belong-To-You-Ft.-Peruzzi.mp3 (34 downloads)
8 Phyno-–-All-The-Smoke.mp3 (22 downloads)
9 Phyno-–-Onye-Nwa.mp3 (33 downloads)
10 Phyno-–-No-Love-Ft.-Jay-Teazer.mp3 (25 downloads)
11 Phyno_-_Paracetamol.mp3 (26 downloads)
12 Phyno-–-Ike-Pentecost-Ft.-Flavour.mp3 (30 downloads)
13 Phyno-–-Bia.mp3 (11 downloads)
14 Phyno_ft_J_dess_-_Love_Me_Right.mp3 (24 downloads)
15 Phyno-–-Gold-Medal-Ft.-Pappy-Kojo-BeePee.mp3 (26 downloads)