Mc Toothpick Ambushed Entertainment, Jesus Squad Sold Out
Mc Toothpick Ambushed Entertainment, Jesus Squad Sold Out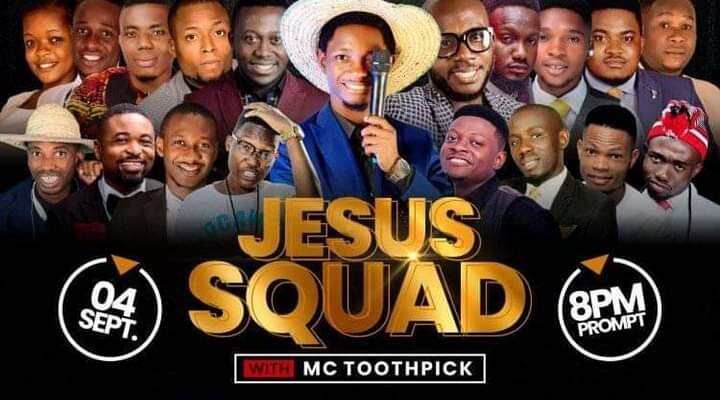 Mc Toothpick Ambushed Entertainment, Jesus Squad Sold Out
Imo fastest rising comedian Mc toothpick just concluded concert "Jesus Squad" was a total sold out.
Mc Toothpick is undoubtedly one of Imo's fastest-growing star because he got the content and the right approach, he has defined what he wants and there is no going back especially now that Assemblies of God Church for the first time is supporting their own in what they would have tagged "worldly".
Toothpick is a superstar in the making, he is here to assume a position most revered and he has support from circular and Christian arts.
On the 4th of September, Toothpick made history by being the first Assemblies of God Church member to host a comedy concert in the church building and sold it out.
However, what made the night superb was the fact that he ambushed all Imo Entertainers, who came thinking that they are there to witness a comedy concert that even got better and became a praise and worship concert.
In the packed church venue was the like of McDuke Ogechi
Bossmandagodmc
Mc Tboy, Eberry Akalonu & Uzone
Mc Chineke boy
Adaku Quingist
Mc Jebi
Mc Bigman
Posh Treasure, Uncle Chux
Obere Jesus
Ebelebe News
Amb Chidex
Sir White
Anoda Miracle
And many more
While Toothpick's show is no doubt a great achievement in itself, it is strengthened by the love inherent among him and the many performing gospel arts and comedians. Mc Toothpick is loved.
Congratulations to Imo State Entertainment Industry
Congratulations to Mc Toothpick
Congratulations to all that came out and most especially in
Congratulations to Assemblies of God Church, it's a new dawn.